Sponsorship
What will Velocity Marketing Enterprises Race Series & Teams do for Sponsors?
Great public relations by putting sponsor's message on a winning team at the finish line!
Place sponsor's decals on race vehicle & race transport.
Team displaying sponsor's name & logo on uniform.Signage that gets noticed!
Representing sponsors to race fans at the finest motorsport facilities.
Spokespeople for sponsors at all series meetings and media gatherings.
Supply race vehicle, crew & transport for display at sponsor's place of business.
Supply race vehicle, crew & race transport for display at sponsor's promotional & special events.
Advertising & Public relations packages that work!
Velocity Marketing Enterprises has Teams & Series available in all markets: Local, Regional, National & International.
Many of the display and exposure opportunities exist each year - and we are open to any ideas you may have for utilizing our race vehicles, crews and race transports for your marketing objectives (i.e. in-store display, ect.) We believe the potential for a win-win sponsorship scenario exists for a number of reasons. An advertising & public relations package that works for your company both on and off the track and in return the race team or series can concentrate on a successful racing.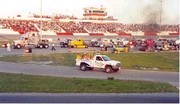 Sponsors!
Sponsors let us know:
Which age group you would like to reach?
What is your budget?
What is your timing?
Who would you be interested in sponsoring?
Call or email us to discuss what sponsorship opportunities may exist with your company.
6004 8 Avenue S.E. Calgary, Alberta T2A 3P7 Telephone (587) 966-RACE (7223)
Get measurable results from motorsport sponsorship!